Message from the Chairman
It was my honour and privilege to be invited by Andrew to Chair his election campaign for non-Aldermanic Sheriff of the City of London 2022/23. He is a truly outstanding Sheriff with the broadest base of Livery support I have seen for many years.
The role of Sheriff has become increasingly important over recent years. Now-a-days both Sheriffs not only support The Lord Mayor and look after the Old Bailey, but are also expected to be credible Ambassadors for the City in their own right. They are expected to do the heavy lifting here and abroad, standing in for the Lord Mayor when necessary. This is especially important in these challenging times when the emphasis will be on our place in a post-Brexit post-Covid world. This will require a range of skills and experience that are common to both Aldermanic and non-Aldermanic Sheriffs.
In essence Sheriffs need to have an outstanding CV. They are required to be good communicators, good convenors and confident public speakers; have credible networks and successful business experience, and above all excellent Ambassadorial qualities. A successful Sheriff will also have strong commitment to the Livery, the respect of the Corporation Officers and Members and support from their family home team.
Andrew has all of the above in spades.
He has an excellent working relationship with the Lord Mayor Alderman Vincent Keaveny, and Alastair King, the Aldermanic Sheriff, and Nick Lyons the incoming Lord Mayor 2022-23- so we can look forward to them combining as 'One Team'.
Sir Michael Bear

Chairman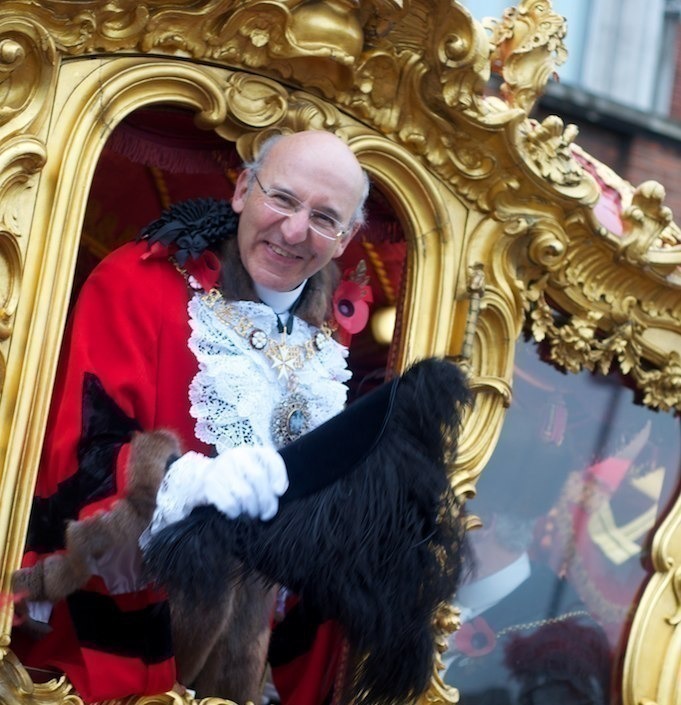 Supporters
Andrew received widespread support from across the Livery for his election as Sheriff, from:
The Master, Wardens and Courts of The Worshipful Company of Marketors, The Stationers and Newspaper Makers, The World Traders, The Glaziers and Painters of Glass, The Hackney Carriage Drivers, The Guild of Investment Managers
&
More than 900 individuals representing 109 Livery Companies and including Past Lord Mayors, Past Sheriffs, Past and current Livery Masters, and Wardens (*), Presidents of City organisations and senior Common Councilmen - including:
A
Cynthia Abbott
Justin Ablett
Roger Adcock *
Anjola Adeniyi *
Ian Aitchison FRGS Chart.PR
Ron Aitken
William Alden MBE DL
Alexandros Alexandropoulos
Rick Alford
Sue Algeo *
Peter Allan
David Allan *
Toni Allen FCIM
John Allen
Robert Alston * CMG QSO DL
Peter Alvey *
David Amor
Rooney Anand
Lars Andersen *
Philip Andrew
Christopher Andrews
Annette Andrews *
Nick Andrews *
Ray Anstis *
Adrian Aplin MBE
Dr Simon Archer *
Dr Keith Arundale *
Victoria Ash
Jenny Ashmore
Martin Ashton
Amanda Assheton
Mary-Jane Atkinson *
Frank Auton
Azad Ayub BSc MSc DIC FIoD FRSA MCMI MRi MCIHT MASCE PE
B
Anthony Bailey
David Alan Ball * FREng
Alan Bannister
John Barber * DL
David A Barrett
Vida Barr-Jones
Stephen Barter
Adrian Bastow CC
Alex Batchelor
Lesley Batchelor OBE
Steven Bates
Stephen Bates
Hannah Battey
Georgina Battey BA
Steve Battey
Paul Battey
Fiona Battey
Graham Baulch
Darren Joseph Bayley MA MBA CMgr FCMI CMktr FCIM
Robert Bean
Lady Barbara Bear
Sir Michael Bear * Lord Mayor 2010/11
Rosemary Beaver * MA FCII
Paul Beavis
Laura Beccaria MBA
Dr Luigi Belluzzo
John Bennett * MBE, Past Chief Commoner
Ian Bennett *
Nick Bensted-Smith JP CC
Simon Bentley *
Stephen Bernhard * FCiHort
Richard Bernholt BSc (Econ)
Jamie Berry
Major Geoffrey Berry * T.D.,K.L.J.
Richard Bettinson
Ankur Shiv Bhandari
Margaret Bickford-Smith * QC
Charles Billot
Nicholas Birtles *
Sally Bishop
Graham Bishop *
Dr Peter Blair-Fish * MA PhD CEng FICE MEI
James Blake BSc, FCA
Lewis Bloch *
Doreen Blythe
Valerie Boakes FCIM C.F
David Bole
Robert Bond BA, CCEP, FSALS, CompBCS
Geoffrey C Bond * OBE, DL, LLD, FSA - Past Sheriff
Robin Booth *
Dr Paul Bostock *
Deputy Keith Bottomley
Rob Bould *
Julian Boulding
Stephen Bourne MA, FCA, FRSA
Jacqueline Brabazon
Francelle Bradford BEM
Ishreen Bradley
Deirdre Bradshaw * FRICS
Colin Bramall
Gabriel J Brennan
R A Brighton
Roger Brighton
Dr Trevor Brignall *
Frances Broadway
Annie Brooks
Commodore Barry Brooks * BSc(Eng) CEng FIMarEST FIET FCGI
Dominic Broom
Tim Brown
Frank Brown
James Bryer *
Zoe Buckingham
John Buffoni
Mike Bugsgang
Kai Büntemeyer
Richard Burge
Alistair Burrow
Mark Butcher BSc, MBA, ACMA
Ann Buxton *
Andrew Bye
Dr Dolores Byrne * OBE
C
Sharon Callcut
Simon Campbell-Davies
Andrew Campling
Dave Cannell *
Audrey Canning * MA, CEng, FIET, FRSA, MSaRS
James Cannings BSc
Steve Cant *
John Cardnell *
Tyler Carey
John Carrington *
Simon Carter
Neil Carter
Chiles Cartwright MBA
Glyn Cartwright *
Jeremy Cartwright *
Justin Cernis FRSA MIPA
Captain Derek Chadburn * MSc
Deputy Roger Chadwick OBE, CC
Spencer Chambers
Maria Chanmugam * BA(Hons), MCIPR
Geoffrey Chaplin
Nicholas Chapman
Patrick Chapman *
Commander Les Chapman * BEng MBA CMMar FNI Royal Navy
Benjamin Chatterjee MARLA
Marianna Cherry
Jay Chinnadorai
David Chitty
Victor Chopin-John
Tricia Chrebelska
Colin Chrebelski MBA CERT ED FCMI
Sue Christensen *
Helen Christopher
Richard Christou * MA
Ming Hang Henry Chung FCIM Chartered Marketer
Elaine Clack
Michael Clark
Martin Clarke * MA FCA MSI FRSA - Past Sheriff
Melissa Jayne Cliff-Emmanuel
Lt Col (Retd) Leonard Clifford TD
Dr Jane Collins
Ross Collins
Alex Conabeare FCIM BSc
Professor Tim Connell MA BPhil DLitt PGCE FCIL
Gail Cook
Alan S Cook *
Lee Cooper
Tom Corrigan * OBE
Annie Couldrey
David Cowell
Tim Crabtree
Sir Michael Craig-Cooper * CBE TD DL
David Crawley
Patrick Crockford MSc FCCA DChA
Kathryn Crockford
Carol Cross
Andrew J Cross *
Jonathan Crowther *
Michael Cullen
Simone Cunningham
Paolo Cuomo MEng CEng FIET
David Curgenven FRIN FCILT MRAeS
D
James da Costa
Christopher Dadson *
Vanessa Dal Busco LLB
John Dallimore *
Michael Dalpe
Michael Dalton *
Stephen Dann
Herbert Danner
Neil Danner AATQB
Christopher Davey *
Dr Ariel Sergio Davidoff LL.M.
Eric Davies
Michael Davies *
Ian Davies * MCOptom, DipCL, FAAO
Colonel Jane Davis OBE OStJ QVRM TD DL RGN - Vice Lord-Lieutenant Of Greater London
Phillip Davis *
Michael D Davis *
Captain ML Davis-Marks * OBE RN
John Davy
Janet Dawson
Lawrence Day ISO, CStJ, JP
Patricia Day *
Lesley Day *
David de Freitas FPFS
The Venerable Peter Delaney * MBE
Anthony Demby *
George Demetriou
James de Sausmarez * CC
Kevin Dewey *
Dinesh Dhamija
Katherine Dimancescu
Sabila Din
Gary Dixon *
Alan Dodds DipM FCIM FIDM Chartered Marketer
Nicholas Doherty
Judith Donovan * CBE
David Double CertHE MBCS RITTech MBII
Professor Linda Drew
Garry Driver
Gaye Duffy
Richard Duncalf OBE JP
Ian Dunckley FIMecheCEng
Jon Dunn BA Hons (Dunelm) FCSI
Emma Dunn
Martin A Dunphy
Fay Dupuis
Thomas Dupuis
Eur Ing Nicholas Dutton BSc (Eng) MSc CEng MIET MIMarEST MIoD
Andrew Dyke
E
Dr John Eaton * MB, BS, LRCP, MRCS
Jacques Edeling
Chris Edge
Corinna Edge
Christopher Edge *
John Edmund FCIM MBA BSSc
Roger Edmunds
Philip Elder
Brian Ellis
John Ellis MCIM
David Elmer
Jane Elmer
David Elsy
Stephen Enthoven ACIS
Martyn Eustace
Richard Evans
Richard Evans *
Colin Evans * PM
Sarah Jane Evans MW
Richard Eyre CBE
F
Giles Fagan
Dame Carolyn Fairbairn
John Farrell * BA (Hons)
John Farthing
Denise Fellows *
Michael Felton * MA, (Leeds) BSc. (London)
Catherine Fewkes
Michael Fewkes
Harriet Fewkes BSc
Paul Finch
Kathy Fisher
Ben Fisher BA
John Fisher *
Margaret Fitzsimons *
Robert Flather *
Richard Fleck * CBE
Phil Fortey *
David Forth LLB FCA
Hugh Fossick MA
Charles Fowler * CStJ TD DL
Professor Mark Fox BVetMed PhD DipEVPC FHEA FRCVS
Julie Fox *
Revd Mark Fox BA BTh MSc FRSA FRAS FRGS FZS FLS FSA Scot
William Frank FCIM
Biagio Fraulo JP, Under Sheriff of Greater London
Maceo Frederick
Kevin Freedman
Lionel Frewin
Neil Fullbrook
Robin Furber *
G
Oliver Gadsby
Suzanne Galloway *
Alex Galloway * CVO
Archie Galloway OBE
Marian Gamble
Solangela Garbutt
Baroness Sue Garden of Frognal PC *
Sue Garland Worthington * OBE
Nigel Geach
Michael Gee
Stephen Gee *
Christine Geer
Norman Gibbs
Malcom Gilbertson BA (HONS)
Michael Gilham * FAMU/SF
Liz Gill
Malcolm Gill TD
Geoffrey Michael Gillo *
Michael Godbee * B.Sc, FCA, FRSA, MRI
Mavis Gold
Frances Golland
Ann Goodger
Græme Gordon *
Peter Goudge * FMRS FCIM
Dominic Graham
Steve Graham
Michael SK Grant * FBCS
Keith Greatbatch
Christopher Green
Professor Diana Green CBE,BScEcon;PhD Econ;D.Univ,FRSA DL
Liz Green * Past Sheriff
Richard Green *
Victoria Gregory
Henrietta Gregory
David Gregory
David Gregson
Chris Griffin
Susan Griffin
Jonathan Grosvenor MA (Oxon), ACA, JP
Conor Gunn
Martin Guntrip
Madush Gupta BA, LLB
H
Judy Hadden *
David Haigh FCA
Pauline Halliday OBE * Past Sheriff
Suzanna Hammond
John Hammond *
Dr Annmarie Hanlon
Mark Hardy *
Mary Hardy *
Roger Harper * MBE
Simon Harrington
Dr Bob Harris
Professor Phil Harris BA (hons), PhD, FAM, FAMS,FCIM,FCIPR, FRSA
Michael Harrison *
James Hasler
Natalie Haverstock
Patience Hayes
The Rev'd John Hayton * TD
Christopher Hayward * CC, Past Sheriff
Christopher Hearnden
Dan Heath
Andrew Heath-Richardson JP
Professor Simon Heffer MA PhD FRHistS
John Heffernan *
Tom Hempenstall *
Mark Henderson *
Paul Herbage * MBE KStJ DL
Brian Hibbitt
The Rt Hon Sir Gary Hickinbottom *
Stephen Hickman
Alistair Hill
Rebecca Hill
Dr Brian Hill BA MA PhD
Stephen Hilleard
Richard Hills *
Richard Hirst
Omaid Hiwaizi
Michael Hockney MBE CCMI FRSCM FSA
Christine Hodder FIH
Anthony Hodges
Chris Hodgkinson *
Stephen Hodgson
Lord Bernard Hogan-Howe Kt, QPM
Kate Holden
Mark Holford *
Belinda Hood
Dr Roger Hood * QVRM TD DL
John Hooper CBE
Malcolm Hopkins *
John Hornby
Denis Horton
Carolyn Howard
Roger Howells *
Roger Howes
Venetia Howes *
Andrew Hubbard
J. Brian Hudson C.Eng. AMIMechE
Sue Hughes *
Charles Hughes *
Luis Hui
Charles Hull
Brian Humphreys
William Hunt * TD
Geoffrey Hunter FCA FCG
Tukeer Hussain
Tom Hutley BA
Robert Hutton * BSc, F I Mech E
Mark Huxley FRSA
Deputy Wendy Hyde *
I
Deputy Jamie Ingham Clark CC
J
Robert Jack
Stephanie Jackson
Dr Alex Jackson
Ted Jackson *
Commander Rory Jackson * RN FCIS
Michael James
Marcus Jamieson-Pond
Karl Jarvis MBA ACIS ACII MCIM
Peter Jeary
Ann-Marie Jefferys * LLM
Chris John
David B Johnson
David Johnson * FCMA
Philip Johnston
Professor Mike Jones
Alexander Jones
Karen Jones
Raymond Joyce *
K
Andrew Keates
Anne Keates
Emma Keeling
Sasha Keir MA
James Kelliher BSc (Hons)
Mike Kerlogue
Major General Seumas Kerr CBE
Michael Kerr BA
Richard Keys
Honorary Captain (Navy) Bevan Killick
Clive Kilmartin
Jessica Kingsley FRSA
Rupert Knowles
Anthony Komedera * MBA FCA
Stephan Kuester SJK
Joyce Kwong
L
Mei Sim Lai * OBE DL
Lt Col (Retd) Roger Laing TD
Stuart Lamb
Andrew Lane MA, MBA
Mark Larard TD MRICS
Michael Larsen *
Lady Lauriston *
Raymond Layard *
Oana Lazar
Professor Barry Leahey MBE
Peter le Conte
Charles Ledsam *
James Lee *
Ian Leggett
Lady Lenzie
Lord Peter Levene * of Portsoken, KBE - Lord Mayor 1998/9
Peter Leverkus MSc MBA
Wyndham Lewis
Colin Lindsay
Dr Hilary Lindsay *
Dr Mary E Linington
Malcolm Linskey *
Aidan Lisser
Todd Litzsinger
John Livingston
Professor Michael Llewelyn-Jones *
Morag Loader *
Pip Lobo
Dr Sunila Lobo
David Lock *
Erica Lockhart
Hollie Lockhart Bsc
Ian Locks *
John Lockyer * BA(Econ), FIA
Tony Lofts *
Richard Longhurst
Deputy Charles Edward Lord OBE JP
Rev'd Michael Lovegrove
Dianne Lucas FCIM
Michael Lynch BA (Hons) CMRS DIPM MSc FCIM
M
John MacCabe *
Grant Macdonald *
Hugh MacDougald * LLB TEP
Gus Machado
Lisa Mack
Alan MacKay
Amanda Mackenzie OBE
Mark Finch Magnacca
Derwin Mak
Kerri Mansfield * JP
Maureen A Marden *
Debra S Marmor
Judith Marmor
Patrick Marsden MCIPS
Major Eddie Marshall TD
Patrick Marsland-Roberts * TD
Pauline Martin
Laurence Martin
Richard Martin
Simon Martin *
Anthony Mash *
Eric Masih High Sheriff of Bedfordshire
John Mason
Major Gen Jeff Mason MBE
Dr Terry Masters *
Professor Gordon Masterton * OBE DL FREng FRSE
David Mauleverer * Past Sheriff
Adrian A Maurice *
Darren Mawhinney BA, MSc, FCIM, FSMII
Rob May
John May BA, DIA, FCA, FRSA
Claire Mayne
Dr Christopher McArdle * PhD MBA BSc(hons) MAE QDR FCIArb FIET CEng
Hamish McArthur
John Robert McClements FRSA MBA
Colin McCosh CA FCT
Penelope McDonald
Professor Malcolm McDonald MA(Oxon)MSc PhD DLitt DSc
Dallas McGillivray
Sheila McGregor
Patrick McHugh *
Christopher McKane *
Lee McLernon
Andrew McMurtrie JP CC
Tim McNally
David McNicol
Alan McWalter
Wendy Mead * OBE, Past Sheriff & Chief Commoner, CC
Karen Mercer *
Dr David Merrick BSc, PhD
Clive Message
Deputy Andrien Meyers CC
Arne Mielken MBA
Philip Miles BA (Hons), Chartered FCSI
Nina Sophia Miralles
Dipak Mirchandani
Clive Mishon
Nicholas Misselke
Doug Moody
Ian Moore
Kevin Moore
Belinda Moore
Gary Moore *
Dr Georgy Mordokhov FRSA, Mri
Mark Moreton
Dr Edwina Moreton * OBE
Jacqueline Morgan
Kenneth Morgan *
Richard Morley Cert. HE (Open)
Mark Morris
Jake Morris
Roz Morris
Diane Morris Bsc ( Econ) Hons, MCAM
David Mortlock *
Paul Morton *
Jennifer Moseley
Deputy Alastair Moss
Margot Mouat
The Revd Sally Muggeridge *
Christina Munday
Peter Munk
Professor Roderick Muttram FREng FIET FIRSE FIoD SMIEEE
Harris Myers
N
Graham Naisbitt
David Neale
Ruchira Neotia
John Newcomb
James Newman OBE
Carol Newman JP
Deputy Barbara Newman * CBE, former Chief Commoner, CC
Edward Nicholl * MA FCIS
The Rev'd Canon Nigel Nicholson OStJ, DL.
Marina Nicholson
David Noble
Rashid * Dr Noorzaman
Anthony Norton FIOD
John Nugée *
Kevin Nutley
O
Sir Kenneth Olisa * OBE Lord-Lieutenant of Greater London
The Very Rev'd Bertrand Olivier
David O'Reilly
Air Vice-Marshal Patrick O'Reilly *
Noel Osborne *
Clive Osborne * JP
Andrew Overton *
P
Stephen Pailthorpe
Jill Palmer
Rhian Pamphilon
Ben Papé
Kenneth Pardey FIOP
Tim Parfitt BSc
Christina Parry * OBE
Kevin Parry * OBE
Nick Parsons BEd(hons)
Derick Pasicznyk
Dhruv Patel OBE
Angela Peacock
Debbie Pearson MBA, MSc, FHEA, FISM, MCIM, Chartered Marketer
David Pearson PhD FSA
Dr David Pearson * MA(Oxon), Hon D Litt, FRSA, FMSoc
Bettine Pellant
Russell Penny * CPP MSyI RISC
David Peregrine-Jones *
Ray Perry MBA, Chartered Marketer
Sir Michael Perry, GBE, Kt.
Mary Peterkin
John Petire OBE CC
Zoe Phillips
Paul Pinder
Raoul Pinnell
George Pitiris BSc(Hons), AIH
The Rt Revd Dr Stephen Platten * Hon.D.Litt; Hon.Dr.Univ; B.D (Oxon) B.Ed (London)Dip.Theology.(Oxon)
Judith Pleasance CC
Stephen Plumb *
Deputy Henry Pollard *
Peter Pollard CTA
Sebastian Pooley FRAeS FRIN
Elliott Porte *
Michael Potter
Helen Potts
Andrew Pound
Brian Pound CIM
Antony Prior
Helen Pugh BA MClip BA
Rowena Pullan
Dr Anne Punter *
R
Philippa Räder
Martin Randall
Jeremy Randall *
Michael Ranson
Ehsan Razavizadeh
Neil Redcliffe * JP, Past Sheriff
Peter Rees
Richard Regan * OBE, Past Sheriff
John A Reid
Cllr Carolyn Renwick
Gwenllian Rhys *
Judith Rich OBE
Nigel Rich * CBE
Martin Richards
Neil Richardson
Mike Rigby
Dr Christine Rigden * Past Sheriff
Martin Riley * MA(Oxon) Hon DBA ( Greenwich) FRSA
Captain Sylvia Robert-Sargeant
Andrew Robinson BSc (Hons)
Chris Robinson
Gordon Robson *
Anthony Roche * FREng FIMechE CEng Hon DTech
Andy Rogers
Peter Rosenvinge BA (Hons) MCIM
David Rosewell
Jim Rothwell
Alan Roughan *
Steven Rowe FRSA
Keith Rowland BSc (Hons), DipM, FCIM, Chartered Marketer
Christopher Roycroft-Davis
Henry Ruddock MSc
Ben Rudman
David Rundle
Tom Rusga
Clifford Rust *
Professor Ian Ryder *
S
Colin Sach *
David Sales *
Sushil Saluja
Iain Sanderson
Anthony Sandifer Mallard MBE., CStJ.
Robert Sanger
Edward Sankey * PM
Dorothy Saul-Pooley * LLB(Hons) FRAeS FRIN
Maggie Scanlan
Brian Scanlon *
Jennifer Lynn Schwalbenberg
Belinda Scott FdA DipHort
Melissa Scott *
Drew Scrimgeour BSc (Hons) MBA
Ian Seaton * MBE, CC
Carole Seawert
Christopher Seow
Daniel Severin
Paul Sewell
Jemima Sexton
Arthur Seymour * FCIOB FFC
Jyotika Shah
Michael Shapiro *
Gordon Sharp
Lance Shaw *
John Shepherd
Tony Shergil
Wendy Shorter-Blake * MBE
Roger Shrimplin * MA(Cantab), DipArch, RIBA, FRTPI, FCIArb, MIOL
Stewart Shuttle BA Business Hons
Daniel Silva
Bashir Bernard Siman OBE
Varinder Singh
Jesse Singleton BEng
Mark Sismey-Durrant *
Phyllis Skull
Moira Sleight *
David Smallman BA (Hons)
Brian Smith
Gregory Smith ITG
Pete Smith
Nick Smith
Christopher Smith *
Dr Dermot Smurfit
Dame Cilla Snowball DBE
Jonathan Soar * BSc (Hons), FBCS
Professor Laurence Solkin FRSA FHEA BSc (Econ) MSc PhD
Nicholas Somers * FRICS
Wendy Sorrell *
Simon Spalding
John Spanner TD *
Aris Spiliotopoulos MSc
Loukas Spiliotopoulos
Mark Spofforth * OBE
Erica Stary *
John Kay Steel
Nick Steidl *
Rafael Steinmetz Leffa
Jeremy Stern
Clive Stevens
Shaun Stewart
Barrie Stewart * MSc CSyP FSyI
Eric Stobart *
Giles Stockton * ACII ALCM
Major (Retd) Jack Strachan * MBE TD
Tony Stratton DL
David Stringer-Lamarre *
Jim Surguy *
Dr Brian N.C. Sweeney, PhD, FEI, CMarEng
Alexander Sworder BA
Paul B Sylvester
Dr Karol Szlichcinski
T
James Talbot
Brendan Tansey
Simon Tayler-Smith BSc (Hons)
Judy Tayler-Smith *
Mike Taylor QPM
Dennis Taylor
Cindy Taylor
Pamela Taylor *
Lucy Taylor-Mack
Dr Kristan Tetens
Mandeep Thandi
Christopher Thierry *
John Thirlwell MA, FCIB, FIOR
Jo Thomas
Martin Thomas *
Stephen Thompson
Dame Dianne Thompson DBE
Peter Thompson * FIA
Sir Neil Thorne *
Adèle Thorpe *
Liz Thrussell
Diana Tombs *
Professor Peter M Tomkins FRSC CCMI
John Toppin
Simone Travis
Paige Travis
Carol Tullo * OBE
Dmytro Tupchiienko FRSA FRGS
Martin Turnbull
David Tyrwhitt-Drake
U
Sobhna Umradia
Shailendra Umradia
Simon Underwood * FIPA FABRP
V
Jason Van Praagh *
Kit van Tulleken
Dr Dimitri Varsamis PhD, CF
Martin Verdult
W
Dr Victor Nigel Wade
Norman Waite
Jean Walker
Richard Walker
Judith Walker OBE
Sarah Walker
Christopher Walker
Lynn Walters *
Andrew Ward BA (Hons)
Dr Roger Wardman * Bsc, PhD, CChem,MRSC, CCol, FSDC
Mavis Warner
David Warner *
John Watson *
Karl Weaver
Michael Webb
Timothy Webb *
Keith Weed CBE
Richard Wells * ACII
Richard Wernick
Derek West
Godways Wetsi
Jane Wharam
John Wheen BSc, Dip M, FCIM, MCMI
Dr Barbara Wheen
William White
Martin White
Lance Whitehouse *
Gill Whitelegg
Lindy Whitlam *
Liz Wicksteed
Steven Wilkinson
Denis Williams
David Williams
Dr Keith Williams
Dr Emyr Williams BSc. PhD. FRSA.
Richard Williams OBE
Charles Williams *
Jackie Williams *
Nicholas Williams * TD JP DL
Gabrielle Williams Hamer
Tatiana Wilson
Andrew Wilson
Steven Wilson MBA, BSc Hons, FCIM, CIMC
Paul Wilson
Steven Wilson * FRSA FIoD FIED
Mark Winston *
Rob Wirszycz *
Stephen Woodford FIPA
David Woodgate
John Woodman *
Derek Woods * MRICS, FCIOB
Robert Woodthorpe Browne * MBE
Nicola Wordsworth
Philip Worley
David Worrell
Sandra Worsdall *
Michael Wren *
Philip Wright
Peter Wynn
X
Agnes Xavier-Phillips JP DL
Yisha Xue
Y
Charlie Yianoullou
Yvonne Young
Patrick L Young
Nanette Young